Welcome to Gangstad Gårdsysteri – Gangstad Dairy Farm  
At Øvre Gangstad, we proudly make award-winning cheeses and ice cream. We welcome our customers all year round to shop in our farm store, which is conveniently located in the courtyard. Here you may buy all our cheeses in addition to our range of Gangstad products, which encompasses marmalades for cheese, ice cream, sausages and oatmeal biscuits. Additionally you will find specialties from other local manufacturers, such as cured meats, flatbread, spices and kombucha.
In the summer, we serve our own farm ice cream and coffee in the yard. You are welcome to sit down, take a break and experience farm life along Den Gyldne Omvei (The Golden Road) here on Inderøy. You may also find out a little about our history, operations and the typical farm buildings here in the county of Trøndelag.
We hand make roughly 10 different cheeses, biding our time and allowing them to mature properly, thus obtaining the best possible quality. We produce ice cream, yoghurt ice cream and sorbet in about 10 different flavours.
Opening hours
Monday, Tuesday, Wednesday, Thursday, Friday: 9.00 am – 3.00 pm
We are closed on Saturdays, Sundays and public holidays.

The story of Gangstad Gårdsysteri and Øvre Gangstad farm
Astrid and Perry founded Gangstad Gårdsysteri in 1998 as the country's first authorised dairy farm based on cow's milk. Astrid grew up on the farm, and together with her husband Perry, took over the operation after her parents back in 1983. Øvre Gangstad has been in the family since 1913, when Astrid's grandfather, John purchased it.
Today, there are three generations living on the farm. Ole Morten, Astrid and Perry´s son has taken over responsibility for farming and milk production, whereas daughter-in-law Maren works in the dairy. Together they have three children, who are the fifth generation to grow up in Øvre Gangstad. The generations collaborate on operation and development. The farm employs 12 person-years with an additional two more in the traditional part of the farm, which produces milk.
It is extremely important for a local community in a district municipality to provide work close to where people live. We take great pride in providing this, in addition to producing quality products that have received international awards.
An important success factor for us is our collaboration with 20 other companies, known as Den Gyldne Omvei (The Golden Road) in the municipality of Inderøy. There are galleries, an art workshop, medieval churches, boat trips on the fjord, farm stores, hotels, restaurants, an abattoir, a brewery and distillery. Together we create a destination with a diversity that is well worth experiencing. It goes then without saying, that paying a visit to Gangstad Gårdsysteri's well-stocked farm store is a natural part of the experience.
You are welcome to drop by.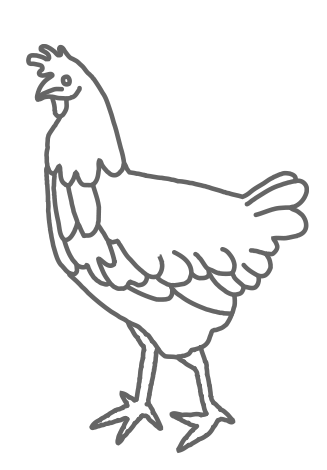 Trondheim and Trøndelag are awarded «European Region of Gastronomy in 2022»
This award was presented by the «Institute for Gastronomy, Culture, Art and Tourism» and confirms that the local food here in the county of Trøndelag, is truly of international class. Common to all restaurants and producers that have won this award in 2022, is that at least 30% of the food and beverages served and produced include local ingredients. We are proud to be able to hang this award on the wall of our farm shop.

How to get here?
If you are travelling by car, we are only 4.5 kilometres from the road junction Vist ( look for the road sign) along the E6, just south of Steinkjer. The nearest airport is Trondheim Airport, 90 kilometres from Gangstad. We recommend renting a car and taking a drive through the "Innherred" municipalities of; Levanger, Verdal and Inderøy all of which, are located in the innermost part of the Trondheim Fjord.
En-route, you will experience lush fields and cultural landscape separating forest from fjord. In the course of the last 15-20 years, a diversity of local food producers has emerged, based on passed-down knowledge and old traditions, in addition to those who think completely differently, and create new products having found global inspiration. At the same time, a variety of restaurants and distinctive accommodation options have sprung up, where you can experience nature first hand or stay in traditional hotels. Visit Innherred can tailor travel experiences for you and your travel companions on Inderøy and Innherred.
For more information, tips and help with planning. See: visitinnherred.com
Where can you buy our cheeses and ice cream?
We supply cheese to approx. 300 shops and restaurants in Norway. Our cheese is sold in well-stocked grocery stores throughout the country (see: Outlets). In the county of Trøndelag, our cheese and ice cream products are available in a variety of grocery stores. On Inderøy, which is also called Den Gyldne Omvei (The Golden Road), you can buy our cheeses in most shops and other farm outlets. Take a look at "God Mat Lokalt" (Good Local Food) in the town of Røra, right by the E6. God Mat Lokalt is a store specialising in only selling locally produced foods.
Award-winning cheeses made from fresh cow's milk from our own farm
Gangstad Edel Blå
A mild and uncomplicated blue cheese. Tastes excellent with Gangstad Fikenmarmelade (Fig marmalade) with added port wine.
Gangstad Nidelven Blå
A strong blue cheese. This is also delicious with our Gangstad Fikenmarmelade.
Gangstad Nidelven Blå has been awarded Silver, Gold and Super Gold in the World Cheese Awards and Norwegian Championships.
Gangstad Himmelsk blå
An extremely mild blue cheese. Bloomy rind on the outside and blue cheese on the inside. Recommended along with our Gangstad Fikenmarmelade.
Gangstad Camembert  
A soft and mild white-mold cheese. We recommend serving it with Gangstad Tindvedbærmarmelade (Sea buckthorn marmalade).
Gangstad Camembert in a ceramic bowl
A soft and mild white-mold cheese perfect for frying. The taste and consistency bond exceptionally well when oven-baked. The recipe and serving tips are on the label.
Gangstad Edel Hvit  
Mild and semi-solid white-mold cheese. Excellent with Gangstad Tindvedbær Marmelade.
Gangstad Karveost 
Semi-solid white-mold cheese with Inderøy caraway. We recommend serving it with our tasty Gangstad Aquavit Gele (Aquavit Jelly).
Gangstad Krydderost
Semi-solid heart-shaped white-mold cheese with added spices. Recommended served with fresh strips of peppers. Excellent for oven baking. See tips on frying camembert.
Gangstad Granstubben
A washed-rind cheese that should be oven-heated. The cheese is made with spruce bark wrapped around the edges, which provides an extra flavour when heated. Granstubben won the gold medal in the World Cheese Awards in Spain in 2021.
Gangstad Snadderost
This spreadable cheese is Gangstad's own specialty and shares the same flavours as our salad cheese.
Gangstad Salatost (Salad cheese)  
Dices of cheese marinated in rapeseed oil with our own herbal mixture and fresh garlic.
This one has won the gold medal on several occasions in the National Championships.